My Interpretation of the Croatian Toponyms
The Salt Lake
on the Mljet Island.
---
It's sometimes suggested
that the islands
were once the places richest
in toponyms, because people
had to use
every single source of
fresh water and every single
piece of fertile land.
So, I was asked to create a web-page in which I summarize my alternative interpretation of the Croatian toponyms, which I have supported on many Internet forums and on some
conferences
(full text is available
in this PDF
on the page 70), so that we have everything about it on one page. Here we go!
ATTENTION: Some of the opinions stated in the following text are contrary to the mainstream science. I will not advise you to read it if you don't have a substantial background in linguistics. I am not a conspiracy theorist who wants to bombard people with controversial statements they don't know how to evaluate, and I am not denying it is possible my work is to historical linguistics what Anatoly Fomenko's work is to history. If you are ready to read it, click here.
SUMMARY: It will be argued that it is impossible that the Illyrian language died out in ancient times, as the mainstream historical linguistics claims, but that it is nearly certain that it, despite never being attested, died relatively recently and that many, if not most of the, Croatian toponyms come from it. The main argument for that is that, if the toponyms came from the Croatian language, most of them would make sense to those who speak Croatian, yet the vast majority of them don't. Alternative etymologies are proposed for around 100 toponyms in or on the borders of Croatia. Some basic vocabulary of Illyrian is reconstructed, the most certain words are: *issa~iasa, meaning "source of a health-giving water", presumably coming from the Indo-European root meaning "boiling" or "spring", *karr~kurr, meaning "to flow", presumably from a Pre-Indo-European substrate language and cognate to the Late Latin fish names "carpa" and "carassius" (probably unrelated to Latin for to run, curro, which is from Celtic word for horse), *kull~kl meaning "mountain", presumably from the Indo-European root meaning "high", *mar~mur, meaning "marsh", almost certainly from the Indo-European root meaning "marsh" or "sea", *api, meaning "water", from the Indo-European root meaning "body of water", the word *pis~pik meaning "coniferous forest", almost certainly related to the Latin word "pix" (resin), and the word *melit~malit, meaning "sea island", probably of Pre-Indo-European origin. The evidence for the root *karr~kurr is considered by the author to be the most firm, since the pattern of it appearing in Croatian river names has a p-value of at most around 1/500. The evidence is consistent enough that some grammatical features of Illyrian can also be inferred, such as the /a/~/u/ ablaut. My conclusion is that Illyrian was a centum Indo-European language with some specific sound changes, such as *bh turning to /p/ in some conditions (perhaps only before 'a') and into /β/ (voiced bilabial fricative) in others, *kj turning to /j/ (the semi-vowel) in front of a nasal, *gj turning into /x/ (velar fricative) in at least some conditions, *kw turning into /k/, single consonants being geminated after a short vowel (presumably because all the syllables had to be of equal length), the diphthongs *ew and *ey monophthongized into long /i/, syllabic consonants turning into /i+C/, the initial laryngeals being preserved as /e/ (presumably because of a word-initial accent), in the later stages of Illyrian (when Illyrian names and words were attested in historical documents), 'e' turning to 'i' in front of 'r'+consonant and, in the last stages of Illyrian (as evident from some names borrowed into Croatian from Illyrian), simplification of consonant clusters into geminate consonants ('rb'>'rr' and 'nd'>'nn'). The reconstructed grammar is then exemplified by translating the Lord's Prayer into Illyrian. Croatian is a Slavic language. However, I think there aren't actually that many Slavic toponyms in Croatia. If there were, they would make sense to those who speak Croatian, and the vast majority of them don't. Many of the toponyms commonly accepted to be Croatian in origin don't even sound (phonotactically) Croatian, such as Delnice (the cluster -eln-, in native Croatian words, the 'l' in -iln- and -eln- gets vocalized into 'o', such as in "čeoni", derived from "čelo", or "dionica", derived from the verb "dijel-i-ti"). So, I argue that attempts to explain the Croatian toponyms without an obvious etymology with Slavic roots is, in fact, a very flawed method, and I attempt to reconstruct a language of the ancient Croatian toponyms (the Illyrian language) and explain the toponyms using it.
To give you an example, Issa, the ancient name for the island of Vis, isn't explicable by Latin or Greek, and is widely stated to have an unknown, perhaps Pre-Indo-European etymology. But here is a clue: there were some quite strong springs there in ancient times, that the Roman baths were getting water from. Those springs were on the western side of the thermae, and they dried out completely in the middle of the 20th century (you can read more about ancient thermae on Vis in the Branimir Gabričević'es dissertation on page 28). And wherever there were large Roman baths in Croatia, the same or similar element repeats. The ancient name for Daruvar was Balissa and the ancient name for Varaždinske Toplice was Iasa. There we have it: *issa~iasa meant "spas" (health-giving springs). And I believe I can trace that name back to Proto-Indo-European: it probably comes from *yos (spring, derived from *yes, "to boil") and the collective noun ending *eh2 (probably pronounced "ah"). The Bal- in Balissa can be explained as being related to the Latin word bullire (to boil), so that Balissa means "boiling health-giving springs". Using that knowledge, we can explain some modern Croatian toponyms without an obvious Croatian etymology, like Jozinci (assuming an ancient name such as *Iasona, meaning "on the health-giving spring", in the sense "on the source of salt water", since salt was believed to have health-giving properties by people of ancient Slavonia). Namely, Jozinci is a small village near Donji Miholjac. It's known that, in ancient times, there was a stream of brackish water flowing through Donji Miholjac, but it's not certain where its source was. It might have very well been in Jozinci (show/hide details).
Of course, things are a lot more complicated than the above paragraph might lead you to believe. Here is what Dubravka Ivšić, perhaps the most prominent Croatian etymologist (supporting the mainstream interpretations of the Croatian toponyms), said about it when I asked her via e-mail: Naselje "Issa" osnovali su Grci, a ne Iliri. Rimske terme su bile jednostavno kupališta, nisu nužno bile ljekovite. Puno je vjerojatnije da je "-issa" u toponimima poput "Balissa" i "Certissa" sufiks nego da su to složenice (uspoređuju se s keltskim toponimima u kojima je "-issa" sufiks). Drugim riječima, po svemu sudeći, toponim "Issa" morfološki nije usporediv s "-issa" u Balissa, a i čini se da ti toponimi pripadaju različitim slojevima, tj. različitim jezicima (treba voditi računa i o geografskoj udaljenosti). "Iasa" u "Aquae Iasae" se i inače izvodi od indoeuropskog *yes 'vreti', i moglo bi pripadati istom jeziku kao "Balissa", ali ponovno nije morfološki usporedivo. Ako i pretpostavimo da "Issa" i "Iasa" pripadaju istom jeziku (što je malo vjerojatno), trebalo bi objasniti razliku u obliku (ako ciljate na indoeuropski ablaut, treba objasniti kakav je to ablaut i zašto se razlikuju stupnjevi).

Pozdrav,
Dubravka If you are not able to understand it, not even using Google Translate, which usually does a good job translating Croatian to English (though not the other way around), perhaps you shouldn't proceed reading.
Anyway, I find the arguments rather weak, primarily because the mainstream linguistics considers the name "Issa" to be related to the toponym Antissa on the Greek island of Lesbos, and Vis and Lesbos are even further away from each other than Vis and Daruvar are. As for the Celtic suffix "-issa", it probably doesn't go back to Proto-Indo-European for it to be relevant here, since Proto-Indo-European phonotactics generally avoided geminates (show/hide details). There does indeed appear to be a suffix "-issia" in Illyrian. As for the differences in the grades of ablaut, that's not so surprising if you take into account that there were two words for spring in Proto-Slavic that were different only by a grade of ablaut, *virŭ and *vorŭ. Again, I can't promise you (and probably nobody can) to know all the relevant technical details.
Here is how Dubravka Ivšić responded to the question "Why would you assume that the suffix -issa, found in Celtic languages, also existed in Illyrian, when it obviously couldn't have existed in Proto-Indo-European (whose phonotactics didn't allow geminate consonants)?": Ako je sufiks -issa postojao u ilirskom, onda je to bio ilirski sufiks, kao što je svaki sufiks kojim se tvore hrvatske riječi hrvatski sufiks.
Međutim, postavlja se pitanje što je to ilirski. Po onome što se danas zna, čini se da se naziv "ilirski" koristi za domorodačke indoeuropske jezike na našem tlu (i šire) koji su se govorili prije latinskog i grčkog (neko vrijeme su supostojali), i čije su jedine potvrde toponimi i antroponimi zapisani latinskim i grčkim slovima. Vjerojatno je bilo više "ilirskih" jezika (npr. liburnski, delmatski, histarski) i nije jasno koliko su bili srodni. U novije doba govori se i o jednom takvom "panonskom" jeziku, kojem bi pripadali i (neki) predslavenski toponimi u sjevernoj Hrvatskoj. U sjevernoj Hrvatskoj još postoji i teoretska mogućnost keltskih toponima (iako je samo Carrodunum sigurno keltski), pa ako je Certissa keltskog podrijetla, onda je u njemu sufiks -issa keltski. Uglavnom, to je metodološko pitanje - kako ćemo što definirati, a o svemu skupa ima premalo podataka da bismo išta sigurno tvrdili.
To što u praindoeuropskom nisu postojale geminate ne znači da se one nisu mogle razviti u pojedinim jezicima. I'll leave you there to decide for youself. I took that as an admission that the mainstream interpretation of the names of places in Croatia goes against not only combinatorial evidence, but also against accepted facts (though not strictly, it's possible, although it's unlikely, that the identical suffix developed in both Illyran and Celtic) from comparative linguistics. While linguistics is not a science in the same way physics is, that doesn't mean such things don't matter.
By far the most common counter-argument I get is that, if a toponym doesn't come from Croatian, perhaps it comes from some other attested language, the most commonly proposed being Latin. Most of the such proposed etymologies can be easily refuted, click here to see (or hide) how.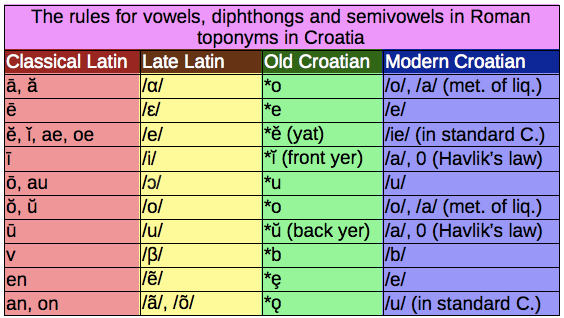 Many, if not most of the, supposed Latin etymologies of the toponyms of modern-day Croatia can be refuted simply by pointing to the basic facts of the historical phonology. They should be the way of establishing the basic rigour in studying the toponyms. Nevertheless, they are only rarely mentioned in the papers about toponyms. Here are the ones that I consider to be most important. Classical Latin long /i/, in Vulgar Latin, turned into a sound similar or identical to the Old Croatian front yer, that later, according to the Havlik's Law (and, in the Chakavian dialect of Croatian, the law that the yers in the first syllable are always vocalized), turned into 'a' (or 'e' in the Kaikavian dialect) or simply disappeared. A beautiful example of that is the toponym Cavtat (folk etymologies often connect it to the Croatian word cvat, meaning flower), derived from Latin Cīvitāte (Vetere) (in the old city). Similarly, the ancient name for Caska was Cīssa (probably an Illyrian word related to the Greek name for the ivy plant, κισσος). Classical Latin short /i/, in Vulgar Latin, turned into a sound similar or identical to Old Croatian yat, which, in standard Croatian, turned into the diphthong /ie/ (spelled 'je' or 'ije'). A beautiful example of that is the toponym Srijem, from the Latin name Sĭrmĭum (the name is obviously Illyrian in origin, from the Indo-European root meaning "flow", as there are many rivers there, the /r/ and the yat switched places regularly due to the metathesis of the liquids, operating in Croatian until the 11th century). It's interesting to note that, in antiquity, there were three places named Sirmium, one was the modern-day Srijem, the other one was the modern-day Šibenik (whose ancient name is preserved in the name of the peninsula Srima), and the third one is Sirmione. The apparent counter-examples (Silba<sĭlva, Piškera<pĭscis...) are confined to the dialects in which the Old Croatian yat regularly turned to /i/. The same is true for the Classical Latin short 'e', which is illustrated by the Latin name for Mljet, Melita (which is probably a Pre-Indo-European word for sea island, compare the toponyms Molat and Malta). Classical Latin long /u/ turned into a sound similar or identical to the Old Croatian back yer, which behaved just like the front yer, except that it didn't participate in the Second Slavic Palatalization (still productive in modern Croatian). For example, the Latin name for the island of Krk was Cūricum (perhaps from an Illyrian word meaning "north", related to Lithuanian "šiaure" and Latin "caurus"). Vulgar Latin short 'u' turned into 'o'. For instance, the Latin name for Rovinj was Ruinium. The only counter-example I know is the name Trogir, derived from the Latin name Tragurium, but that's actually a name (apparently) derived from a Greek word (τραγος, goat), and the 'u' may have been pronounced /y/. Vulgar Latin long /o/ usually gets borrowed as /u/ in Old Croatian, because, quite simply, Old Croatian didn't have long /o/. An example of that is the toponym Pula (from the Latin name Pōla, probably from an Illyrian word related to the Greek word πολις). Apparent counter-examples (Labin<Albona, Solin<Salona...) are explicable as Croats changing the suffix to fit their declension patterns. And, of course, the most obvious rule, yet apparently sometimes ignored, the Classical Latin long and short 'a' came to be pronounced as a sound that was almost always borrowed as 'o' in Old Croatian (Trogir<Tragurion, Solin<Salona, Mosor<Massarum...). Almost all the apparent counter-examples (Labin<Albona, Raša<Arsia, Skradin<Scardona...) are explicable as a result of the metathesis of liquids, which regularly turned *orC and *olC into /raC/ and /laC/. Other apparent counter-examples can be explained as borrowing directly from Illyrian (Drava, Sava...) or, coincidentally, unknown phonotactical details of Old Croatian (the Latin names for Drava and Sava were Draus and Saus, but Proto-Slavic didn't allow wovel sequences within a morpheme). Of course, sometimes (usually quite obvious) folk-etymologies change the accents (and therefore, by affecting the later sound-changes, the vowels), such as in the case of the island name Lastovo (the ancient name was Ladesta, perhaps an Illyrian word derived from the Indo-European root meaning "water", but the modern name looks as if it was from the Croatian word for the swallow bird, "lasta"), however those things happen rather rarely. Another rule, maybe slightly less obvious, but still hard to miss if you study Croatian toponyms, the Classical Latin /v/ turned into /β/ in Vulgar Latin, which was regularly borrowed as /b/ in Old Croatian (Silba<silva, Bribir<Varvaria...). Therefore, the toponyms starting with a 'v' can't be Latin in origin. Those rules are especially accurate if you look at the names in the local dialects. For instance, the name for Brač (ancient name Brattia) in the local dialect is Broc, the name for Hvar (ancient name Pharos) in the local dialect is For, and the name for Šolta (ancient name Solenta) in the local dialect is Sulet (probably because the exonyms weren't actually borrowed from Vulgar Latin).
Yet, those things are often ignored by the etymologists. For instance, the mainstream etymology considers the toponym Viljevo to be derived from the Latin word vīlla. The simple truth is, vīlla, borrowed into Old Croatian, would give something like *Bal (genitive singular *Bla) in Modern Croatian (in my opinion, the name Viljevo is indeed related to the homonymous dialectal Croatian word meaning oak forest, which is perhaps derived from a phrase meaning "in the Saint Elias'es forest"). The mainstream etymology considers the toponym Batina to be derived from Latin *Batinus (dedicated to Bato the Illyrian). Well, first of all, the grammatical way for naming a city after a person named Bato would be *Batinianus. Second, *Batinus, borrowed into Old Croatian, would give *Boten or *Botan in modern Croatian. So much about it. Besides, there is an identical name of place near Kutina, hundreds of miles away. Some people (though it's not really mainstream linguistics) say that the name of the river Una derives from the Latin word ūna (one) supposedly in the sense "the most beautiful". Well, first, if you were to name a river as "the most beautiful", you would use the Latin word primum (flumen), and certainly not una. Second, ūna, borrowed into Old Croatian, would give *Van in modern Croatian (the prothetic 'v' would have to be added in front of the back yer). I hope you see where I am coming from. The phonology of Vulgar Latin is known, and it doesn't explain most of the modern Croatian toponyms. The phonology of Illyrian is not known right now, but it can hopefully be reconstructed from the toponyms.
And the same goes for some other languages that are suggested to be the source of modern-day Croatian toponyms. Mainstream linguistics connects the ancient name for Split, Spalatum, with the Greek word for spiny broom (a flower), ασπαλαθος. Yet, the modern name Split points to it being borrowed as *Speltos, with an alternation between 'a' in Spalatum and 'e' in *Speltos. This alternation would have been irregular in Ancient Greek, but it might have very well been regular in Illyrian (since, for instance, the name Dalmatia was also attested in antiquity as "Delmatia", and the ancient name for the island of Brač, "Brattia", was also attested as "Brettia", and those names are without a doubt Illyrian). In addition to that, a placename being apparently derived from a plant name or an animal name without there being a suffix (as in the case of Spalatum being apparently derived from aspalathos) is a typical sign of a folk-etymology.
The strong bias to assign the origins of names of places in Croatia to Latin and Greek is also seen in what's written about the name Koška, namely, that it comes from Latin castellum (castle). The phonetic difficulties with connecting the two are rather obvious, and, not only that, there is an identical toponym on the island of Šolta, and, in the local dialect, koška means rock whose shape reminds of a bird, from Proto-Slavic *kosŭ (blackbird, probably itself from Greek κοψιχος) and the adjective ending -ka. Doesn't it make by orders of magnitude more sense to suggest those two toponyms are related, and that koška used to mean the same thing in the Slavonian dialect of Croatian?
Here is a list of the etymologies of the Croatian toponyms I've supported on the "Croatian Toponyms" thread linked on the left:
Aenona (Nin) < *h2ekj-mon (where a lot of stones are)
Albona (Labin) < *h2elbh (white). It's unknown what the precise pronunciation of 'b' was, some sources spell it as 'v'. It might have been /β/.
Alma (Fruška Gora) < *h2elm (fertile)
Almissia (Omiš) < *h2elm-yess (on a fertile ground)
Andautonia (Zagreb) < *h2en-dheh2-ont-om (near that which flows). The name Zagreb itself probably means "the God's hill", from the Illyrian word Dzis (God), mentioned on the Messapian inscriptions, and a word related to Proto-Slavic *gora and Sanskrit giri. So, the Illyrian name might have been *Dzigurevos, borrowed into Old Croatian via Vulgar Latin.
Apševci < from an Illyrian name (borrowed directly from Illyrian, not via Vulgar Latin) such as *Apissios, meaning "river island", derived from the Indo-European root *h2ep (water), for the semantics compare the Croatian toponym Otok near Vinkovci. Similar names occur repeatedly in microtoponymy, for instance, near Donji Miholjac there is a field called Apšaldol.
Arsia (Raša river) < *h3rews (to flow fast)
Asinium (Sinj) < related to Proto-Slavic *asenŭ (ash tree). Or, perhaps even more likely, related to the Hittite word haš (stone), since the same element repeats in the names of other stony places. For instance, the ancient name for Osor was Assarum.
Balissa (Daruvar) < *boll-yos-eh2 (where a lot of health-giving boiling springs are)
Baranja < some sort of derivation from *mory (marsh), compare also Greek βορβορος and the ancient (almost certainly Illyrian) name for the river Bojana, "Barbanna" (attested by Titus Livius in Historia Romana in the 44th book and the 31st chapter). The Illyrian name might have been *Barrania, with the first 'a' stressed and long, compare the ancient name for Dinara, "Dindaria" (while the modern name looks like as if it was from *Dinnaria), for the consonant cluster, in this case -rb- to -rr-, simplification.
Biđ (the river) < From an Illyrian name such as *Vōdios, from Proto-Indo-European *wed (wet), borrowed into Old Croatian from Vulgar Latin (therefore, 'v' regularly being borrowed as *b, long 'o' as *y, turning into 'i' in Modern Croatian, and 'di' regularly yotated into 'đ').
Basante, Basuntius (Bosut) < *bel-sewh1-nt (strong waterer), see "Sutla" and "Sunja" for the sound changes. Modern name obviously comes from the name Basante (attested on Tabula Peutingeriana), rather than Basuntius (attested by Pliny the Elder in the 3rd book in the 28th chapter of Naturalis Historia), it's hard to tell what was the relationship between those two names in antiquity. I'd argue that Basuntius is more original, and that Basante is some form of folk etymology.
Belgrade (the capital city of Serbia) < Mainstream linguistics derives the name Belgrade from Serbo-Croatian for white city. However, I think it is possible, if not probable, that it is a folk etymology, and that the correct reading is city on a hill. Consider the name of the city Beli Manastir in eastern Croatia. It seems to come from Croatian for white monastery, but that is a folk etymology. In many historical sources, it was written as Pelmonostor. It is unclear what the word pel meant. Some speculate it could be a word for hill, but, even so, it is of unclear etymology (the nearly-homophonous Indo-European root *pelth1 means field, which is exactly the opposite). So, I believe it is possible, if not probable, that the Bel in the name Belgrade shares the same root, rather coming from the Slavic root meaning white.
Brettia (Brač) < To give some context, Stephanus of Byzantium wrote, in De Urbibus, that "Brettia", the ancient name for the island of Brač, means deer's (Ελαφουσσα) in Illyrian. That makes some sense considering that Strabo also wrote, in the 7th book in the 6th chapter of Geography, that "Brentesium", the ancient name for Brindisi, meant deer's in Messapian (probably a dialect of Illyrian), because its port resembles head of a deer. Also, briedis is the modern Latvian word for deer, so there is a plausible etymology of that Illyrian word. However, Stephanus of Byzantium also wrote that there is a stream (ποταμος) on the island of Brač that's also named "Brettia". It's hard to tell how plausible that is (I am not too familiar with geology), as there are no streams today on the island of Brač. Assuming that's true, that would probably mean that "Brettia" meaning "deer's" is folk etymology, since places are usually named after bodies of water rather than the other way around, and that the name "Brettia" is, in fact, related to names such as Barbanna. Another argument for that is that there is a stream in northern Croatia called Jelenska, it flows into the Lonja River, and the name Jelenska appears to come from the Croatian word for deer, jelen. It makes sense to suppose that's a similar folk-etymology, that Croatians translated an Illyrian name such as Brettia thinking it comes from the Illyrian word for deer, when it fact it's related to the Greek word βορβορος.
Celenae (Orolik) < This name is attested only in the Burdigal (Jerusalem) Itinerary, as a horse market on a steep hill near Cibalae (Vinkovci). Mainstream history places it in Orolik, and that seems like a reasonable assumption. Regarding etymology, my guess is that it is a celestially-themed name, related to Latin caelum, that it means something like road to sky. Such names are relatively common around the world, compare the names such as Babylon (Akkadian for Gate to God), the Chinese place names such as Tiananmen (天安門, Gate of Heavenly Peace, so called because it's on the southern, sunnier, side of the Beijing walls, and the northern gate of the Beijing walls is called Deanmen, 地安門, Gate of Earthly Peace), Tianmenshan (天門山, Mountain of Heavenly Gate), and the name Cheonansi coming from 天安市, Chinese for City of Heavenly Peace.
Cersia (Cres) < *(s)kwer (cliff)
Certissia (Đakovo) < *(s)ker-yess (on a sharp, infertile ground)
Cibalae (Vinkovci) < *kjey-bel (strong house)
Colapis (Kupa) < *kwol-h2ep ("wondering water", river with many meanders)
Dalj < *dhel (milkmen, the Illyran name might have been *Dillioi)
Daljok (Duboševica) < *dhel (milkmen)
Daurum (Dubrovnik) < *deh2w (fire, in the sense "a place that was built where the forest has been burnt down"). The toponym *Daurum wasn't attested in antiquity per se, but the ancient name for Cavtat (some 10 kilometers from Dubrovnik) was Epi-Daurum ("epi" almost certainly being the Greek prefix meaning "beside"). *Daur- borrowed into Old Croatian would regularly give *Dubr in modern Croatian, for the sound changes compare the ancient name for Bribir, Varuaria (by the way, I think the modern name Varivode could also derive from the ancient name of the near-by place Varuaria, attested by Pliny the Elder in Naturalis Historia in book 3 chapter 25, as a later borrowing from Illyran into Croatian). A commonly cited etymology is that "Dubrovnik" comes from the Croatian word "dubrava" (oak forest). Well, first of all, it's not clear why the 'a' would turn to 'o'. It's also not clear why the ktetic would be irregular, people from Dubrovnik are called "Dubrovčani", rather than the expected "Dubrovničani".
Dilj (the mountain) < *delh1 (wide, the Illyrian name might have been *Dilios, if borrowed directly from Illyrian, or *Delios, if borrowed through Latin)
Dindaria (Dinara mountain) < *dent (tooth), the change -nd- to -nn- probably occured in Illyrian after the name Dindaria was attested by Pliny the Elder in Naturalis Historia in the 3rd book in the 26th chapter.
Drava (the river) < *drew (to pour)
Dunav (Danube river) < *danu (river, It's unknown what was the first vowel in Illyrian, because both nasalized 'a', nasalized 'o' and nasalized 'u' turn into 'u' in Croatian)
Eira (perhaps the river Mura, attested in Ravenna Cosmography) < *h1er (to flow)
Ervenica (a stream in Slavonia) < *h3rews (to flow fast)
Esseg (Osijek) < *h1es-seg (healthy field)
Histria (the Istria peninsula) < related to Proto-Slavic *ostrovŭ (island), maybe in the sense "people from the island".
Hrvat (Croat) < *ser-h2ekw-ot (one who lives near a stream), from some language related to Armenian (where PIE *s gives 'h')
Incerum (Požega) < *h1eyn-kjer (the heart of the valley)
Iasa (Varaždinske Toplice) < *yos-eh2 (where a lot of health-giving springs are)
Iovallum (Valpovo) < *yow-h2elom (magical, health-giving herb)
Issa (Vis) < *yos-eh2 ("where health-giving springs are", in reference to the spring which the Roman baths were getting their water from, see the introduction)
Kalnik < *kelh3 (high, the wovel in "Kal-" must have originally been short 'u', reguarly changing to back yer and then to 'a' in Croatian, and there must have been either short 'i' or short 'u' after l, disappearing due to the Havlik's law. So, the Illyrian form was either *Kullunnicos or *Kullinnicos. The toponym was borrowed from Illyrian into Old Croatian after the Third Slavic Palatalization, but possibly before the Second Slavic Palatalization.)
Karašica < from a verb *karr~kurr meaning "to flow", perhaps of Pre-Indo-European origin. I consider this etymology to be one of the most certain ones, see the discussion about Birthday Paradox below to see why.
Kentina (Sinjsko Polje, a name used by Constantine VII in De Administrando Imperio) < *kjem-t-h1eyn (the valley of horses)
Klek Mountain < *kelh3 (high, the change from *kelk to *klek would be regular in Croatian, because the methatesis of the liquids ended way after the first Slavic palatalization.)
Korana < from a verb *karr~kurr meaning "to flow", perhaps of Pre-Indo-European origin. I consider this etymology to be one of the most certain ones, see the discussion about Birthday Paradox below to see why.
Krapina < from a verb *karr~kurr meaning "to flow", perhaps of Pre-Indo-European origin, -ap- is probably from the Indo-European root *h2ep (water). I consider this etymology to be one of the most certain ones, see the discussion about Birthday Paradox below to see why.
Krbava (likely originally a hydronym) < from a verb *karr~kurr meaning "to flow", perhaps of Pre-Indo-European origin. The suffix -ava probably comes from Gothic for water, ahwa. I consider this etymology to be one of the most certain ones, see the discussion about Birthday Paradox below to see why.
Krka < from a verb *karr~kurr meaning "to flow", perhaps of Pre-Indo-European origin. I consider this etymology to be one of the most certain ones, see the discussion about Birthday Paradox below to see why.
Krndija < *(s)ker-nt (cutting, steep). The Illyrian name might have been *Curindea (compare the ancient name for Krk, Curicum, for the sound changes from Old Croatian to Modern Croatian). The change from Proto-Indo-European *-ent- to Illyrian -ind- is hard to explain, but it's not isolated (if Dindaria comes from *dent).
Lika (likely originally a hydronym, attested in the ancient toponym "Epi-licum") < *lewk (clear)
Lissa < This toponym was attested in ancient times by Pliny the Elder in Naturalis Historia in 3rd book in the 63rd chapter as "Contra Iader est Lissa.", Iader being the ancient name for Zadar. The mainstream history generally considers that toponym to be a corruption of the ancient name for Pag, Cissa. However, I think that, if Pliny wanted to refer to Pag, he could a lot more appropriately write "contra Aenonam" or, even better, "contra Vegium" (Vegium being the ancient name for Karlobag), rather than "contra Iader". So, I think this toponym, in antiquity, referred to Ugljan. And I think that, in the late stages of Illyrian, that was the generic word for island, whichever root it comes from. Namely, the modern Italian name for Vis is Lissa, and the modern Italian name for Hvar is Lesina. The modern island name Lošinj, unattested in antiquity, could come from that same root.
Mantouna (Motovun) < *men (mountain)
Mariniana (Donji Miholjac) < *mory-h1eyn (marshy valley)
Marsonia (Slavonski Brod) < *mory-h2en (a town on a marsh)
Medvednica (the mountain) < from an Illyrian name such as *Menduenda, from the Indo-European root *men (to be high), perhaps exactly cognate to the Latin word mons (genitive singular montis), compare Dindaria for the change from -nt- to -nd-. It shares the same root as the ancient name for Knin, Priamona (attested by Strabo in the 7th book in the 5th chapter of Geography, Pria-mona can be read as in front of a mountain, because it is in front of a mountain when lookng from the seaside) and Mantouna, the ancient name for Motovun.
Moslavina (perhaps originally an oronym) < *megjs (large)
Mosor (the mountain) < *megjs (large)
Mursa (Osijek) < *mory (marsh)
Neretva < *ner (to dive) It's interesting to note that the names of many rivers that aren't even partly underground come from a word meaning "to dive". For instance, the name of the river Jordan most likely comes from a Phoenician word sharing the same root as Hebrew word יָרַד (yarad), meaning to dive.
Odra < *wodr (water) The Illyrian name might have been *Udra, coming into Croatian via Vulgar Latin, where short 'u' merges with 'o'.
Orljava < *h1or (spring) The Illyrian name might have been *Arrulia (a river with many springs), coming into Old Croatian via Vulgar Latin, whose 'a' was regularly borrowed as 'o' in Old Croatian and whose long 'u' was regularly borrowed as back yer. The ancient name for Rijeka Dubrovačka, Arion, attested by Pseudoskylax, probably comes from the same root, and so does the ancient name for Dragonja, Argaone (attested in Ravenna Cosmography).
Osseratis (unidentified city near the confluence of the river Vrbas into Sava) < *h1en-ser-ot (where one [river] flows into [the other])
Padoma (an ancient place in the highlands on Vis) < *bheh2gjos (beech tree)
Paklenica < *pikj (resin, the change from short 'i' to short 'a' is regular in Croatian when it's affected by the Havlik's law, so the Illyrian name might have been *Picculla)
Pannonia < *pen (marshland)
Papuk (originally a hydronym spelled "Papugh") < *bhogj (to flow), the Illyrian name might have been *Piββuhos (that which flows and flows), borrowed into Old Croatian directly from Illyrian, compare the Proto-Indo-European *kwel (to turn)>*kwekwlos (wheel) for morphology.
Parentium (Poreč) < *por-h1ey-nt-y-om ("around that which flows", river bank)
Permodios (Premuda) < The supperlative form of Proto-Indo-European preposition *per (in front of), so that it means "the first island in the archipelago".
Pharos (Hvar) < related to Proto-Slavic *borŭ (pine wood), the ancient Greek name Πιτυιεα, attested by Apollonius from Rhodos, is probably a translation of the Illyrian name.
Pisinium (Pazin) < *peyH (resin), compare Greek πισσα and Latin "pinus"
Pisunus (Psunj) < *peyH (resin), compare Greek πισσα and Latin "pinus"
Plitvice (the lakes) < *plew (to flow), compare also the German (perhaps borrowed directly from Illyrian) name for the Balaton lake, Plattensee.
Sava (the river) < *sewh1 (to water)
Scardona (Skradin) < *(s)kwor-dhos (big cliff). The steep Šar mountain in Kosovo was also called Σκαρδον by Ptolemy. However, it's possible it's actually Pelasgian, rather than Indo-European in origin, because similar names with apparently the same meaning appear in Greece. For example, the hill named Σκαρδαμυλα near Sparta and a cliff on the Island of Χιος named Καρδαμυλα (on which a large letter V signifying victory of Allied in World War 2 is painted).
Sčitarjevo < *skewH (shield), in the sense "embankment"
Serapia (unidentified river in northern Croatia, perhaps Bednja) < *ser-h2ep (flowing water)
Šibenik < from an Illyrian name such as *Sievennos (borrowed into Old Croatian through Vulgar Latin), perhaps meaning "flax field", derived from *syuh1 (to sew).
Siscia (Sisak) < *sek (to cut), in the sense "where Romans have cut the forest". As for the change from Siscia to Sisak, I think the simplest explanation is, as silly as this sounds, a folk-etymology connecting the name to sisa, a (rather vulgar) Croatian word for breast. Hills names after a word for breast are not very rare, such as Mumbles.
Sopje (perhaps from an ancient name *salapia) < *seh2l-h2ep (salt lake), so that it's an eponym of the near-by town Slatina (Croatian for "salt lake"), compare "Almissia">"Omiš" for the sound changes.
Sunja (the river) < *suh1-nt (that which waters the ground), the Illyrian name might have been *Sunneos (with a consonant cluster simplification seen in "Dinara"), the Illyrian nasalized 'u' might have been borrowed as nasalized 'o' in Old Croatian.
Sutla (the river) < *suh1-nt (that which waters the ground), the Illyrian nasalized 'u' might have been borrowed as nasalized 'o' in Old Croatian.
Tarda (Darda) < *ters (dry land)
Ulciria (Ujilica) < The same root as Vuka, in the sense "mountain that isn't stony". The modern name is a translation of that name, from Proto-Slavic *ilъ (mud), from the same root as Greek ιλυς. The 'u' in the beginning is from the Croatian word for 'in' or 'into' (similar to how the name Issa became Vis in modern Croatian), 'u', and the suffix '-ica' is the Croatian diminutive suffix.
Una (the river) < *unt (wave, the Illyrian nasalized 'u' could be borrowed as nasalized 'o' into Old Croatian, compare "Andautonia" for the change from Indo-European *nt to 'n' in Illyrian). There are some other cases around the world of a river being named after a word meaning "wave", for instance, the river Vilnia in Lithuania. The name might be even influenced by phonosemantics, because "Una" is the name to numerous rivers around the world, and also the Etruscan word for stream.
Valeriana (Baranja) < *wel-h1er (wet valley)
Vuka (the river) < *welk (moisture, the change from syllabic 'l' to 'u' is regular in Croatian). The name was attested as Ulcae on Tabula Peutingeriana. The names such as Vukovar, Vučica and Vučedol share the same root.
So, assuming those etymologies are true, it is, of course, possible to deduce quite a few things about the Illyrian grammar (show/hide details).
Here is what Dubravka Ivsic told me about some other toponyms I've attempted to interpret on this web-page: Poštovani g. Samaržija,
hvala Vam na mailu. Otvorila sam Vašu stranicu, no nažalost sada nisam u mogućnosti detaljno se baviti time. Ipak, nekoliko usputnih napomena. Toponimi poput Kalnik, Paklenica, Plitvice ipak jesu slavenskoga podrijetla (za korijene usp. kal, paklina, plit-ak), Essek je jednostavno mađarski izgovor hrvatskoga Osijek, a toponim Jozinci puno je vjerojatnije izvoditi od osobnog imena Jozo nego pretpostavljati "ilirski" *Iasona. Toponim Mariniana sasvim se lijepo da izvesti kao predijalni toponim, (rimskoga podrijetla), od osobnog imena Marinius. Problem s pojmom "ilirski" je taj što se u njega trpaju svi predslavenski toponimi na našem tlu koji nisu latinskog i grčkog podrijetla, a mogu se izvesti od nekih praindoeuropskih korijena. No, većina tih etimologija je "ad hoc", t.j. nema se s čime usporediti. Osim toga, "ilirski" toponimi su k nama dospjeli kroz latinski ili grčki filtar, pa mi zapravo ne znamo koji je bio njihov izvorni lik. Zbog toga ne možemo biti sigurni niti kako treba analizirati toponime, npr. Vaša analiza An-da-ut-on- ili ipak An-daut-on-ia. Zato u istraživanju toponima predslavenskoga podrijetla treba biti iznimno oprezan, a metodološki ispravan početak svakako je analiza povijesnih potvrda toponima. O mnogima od tih problema pisala sam u svojoj disertaciji, a upućujem Vas i na stariju literaturu o ilirskom (Krahe i Mayer).

Srdačan pozdrav,
Dubravka Ivšić Majić A question I often get asked is how I know I'm not a victim of the Birthday Paradox, that it's not that the toponyms came from unrelated languages, and that the apparent patterns I see, although they seem unlikely at the first sight, have arisen randomly because such patterns are actually bound to occur. You can see (or hide) my response by clicking here.
So, one of the most striking patterns I see in Croatian toponyms is that 5 river names start with k(+vowel)+r: Krka (once in Croatia, and once in Slovenia, but near Croatia), Korana, Karašica (2 rivers with the same name, both in Croatia), Krapina and Krbavica. So, since there are around 20 consonants in a language, there are around 20*20=400 possible consonant pairs for a river name to begin with. While not all consonants in a language occur equally often, an average language has slightly more than 20 consonants, so we can assume those two errors approximately offset each other out. Let's assume there are around 100 river names in Croatia (it's a safe assumption, since many river names both repeat themselves and have obvious Slavic roots, so they don't count here). What's the probability the same consonant pair will appear 5 times if the names were really random? Let me be clear, we are not asking what's the probability that this particular pattern of k(+vowel)+r would appear in the river names, we are asking what's the probability that any such pattern would appear. This is the equivalent of asking: If you randomly choose a number between 1 and 400, 100 times, what's the probability you will choose the same number n times? So, because of the Birthday Paradox, it's indeed hard to calculate that probability analytically, but I've made a computer program that estimates that numerically. Here it goes in the C programming language (my favorite compiler for C is TCC, by the way, but this program is also easy to compile to JavaScript by Emscripten, you can see it done here): #include <stdio.h> #include <stdlib.h> #include <time.h> int main() { srand(time(0)); int number_of_repeats; scanf("%d",&number_of_repeats); const int number_of_rivers=100; float sum=0; int counter[400]; for (int i=0; i<10000; i++) { for (int j=0; j<400; j++) counter[j]=0; for (int j=0; j<number_of_rivers; j++) counter[rand()%400]++; int max=0; for (int j=0; j<400; j++) max=(counter[j]>max)?(counter[j]):(max); if (max>=number_of_repeats) sum++; } printf("%f\n",sum/100); } So, that program estimates the probability of there being a consonant pair appearing at the beginning of the river names number_of_repeats times, where number_of_repeats is entered on the keyboard.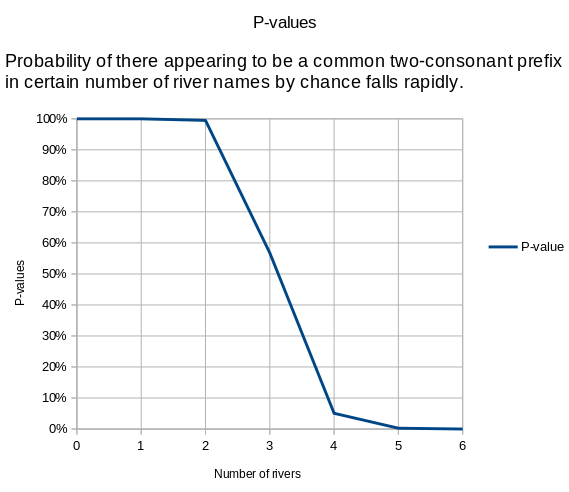 The result will vary depending on how many times that program is being run, but it will always be approximately the same. So, here are some example sessions: 1 100.000000 Because the probability of some consonant pair appearing at the beginning of the river names at least once is, by definition, 100% (unless we assume there is a language in which river names are made only of vowels). 2 100.000000 That's because of the Birthday Paradox, although at the first glance it might seem unlikely that some consonant pair appears two times, the probability of that happening is very close to 100%. 3 56.779999 So, the probability of there being any consonant pair repeating three times is significantly lower than it repeating two times. 4 5.070000 So, the probability of there being a consonant pair repeating 4 times is only marginally statistically significant. 5 0.260000 The probability of there being any consonant pair repeating itself 4 times at the beginning of 100 random river names is significantly less than 1 percent.
Taking there to be 6 such river names might be unfair, because the names of the two rivers named Karašica are exactly the same and it's possible that one was named after the other. Otherwise, the probability of there being a consonant pair repeating itself six times in random river names is so low the program can't estimate it: 6 0.000000 So, the P-value of that pattern is indeed astoudingly low (less than 1/10000). I can not only claim that, if those river names come from the same language, there was a word *kar~kur meaning "to flow" with nearly 100% certainty, I can also claim they do come from the same language with nearly 100% certainty.
The probabilities of some other patterns I found are indeed harder to model, but I expect their P-values to be similarly low.
The most serious objection I get to this argument is that I am underestimating the Huffman's effect (the effect, discovered back in 1951, that it's hard for a computer to encypher texts in human languages, but that it's easy for a computer to compress them, because some letters occur way more commonly than others). You can see my response my clicking here.
The Huffman effect is caused partly by morphology, partly by phonology, and partly by syntax. In toponyms, we can ignore the effects of morphology and syntax. The extent to which the syntax of a language is responsible for the Huffman's effect is fairly easy to measure, here is a program that can be used for that: #include <stdio.h> #include <stdlib.h> #include <ctype.h> #include <time.h> #include <string.h> int main() { srand(time(0)); FILE *input=fopen("text.txt","r"); if (!input) { fprintf(stderr,"Can't open 'text.txt'!\n"), exit(1); } fseek(input,0,SEEK_END); int length=ftell(input),sum1=0,sum2=0; /*Variable "length" now contains the total number of characters in "text.txt".*/ int alphabet[26]={0}; const char *vowels="aeiou"; for (int i=0; i<1000000; i++) { int tmp=rand()%length; fseek(input,tmp,SEEK_SET); char first=fgetc(input); tmp=rand()%length; fseek(input,tmp,SEEK_SET); char second=fgetc(input); if (isalpha(first) && !strchr(vowels,tolower(first)) && isalpha(second) && !strchr(vowels,tolower(second))) { /*If both randomly chosen characters from "text.txt" happen to be consonants...*/ sum2++; if (first==second) { sum1++; alphabet[toupper(first)-'A']++; } } } printf("1/%f\n",(float)sum2/sum1); int max=0; for (int i=0; i<26; i++) if (alphabet[i]>alphabet[max]) max=i; printf("%c %f%%\n",max+'A',100.*alphabet[max]/sum1); } The program will take some 10 seconds to execute on a modern computer. If you put a long English text in the file text.txt, it prints that the probability of choosing the same consonant two times in a row equals 1/11, and that the most common consonant in English is t (presumably because of the meaningless words that need to be there because of the English syntax, such as the, it, that, than...). Yet, if you eliminate the syntax of the language, by putting a spell-checker word-list instead of a text in the file text.txt, it prints that the probability of choosing the same consonant two times in a row is 1/13, and that the most common consonant in that word list is r (presumably because of the extremely common English prefix re- and the even more common English suffix -er). I hope you see why I think that, if you eliminate both the morphology and syntax, the letter frequency will become quite uniform. And the same goes for Croatian: the probability of choosing the same consonant two times in a row in a Croatian text is 1/13, and the probability of choosing the same consonant in a Croatian word-list is 1/14 (in both cases, the most common consonant is n, presumably because of the common Croatian prefixes). For German, the respective probabilities are 1/12 in a text and 1/15 in a word-list, and the most common consonant is again n in both cases. It's indeed hard to measure the effects of phonology, but you can see why I think that we are not very far off if we assume the probability will be around 1/20. However, even if it is closer to 1/15, it would not matter much, since the p-value of this pattern with *karr~kurr would then be 18/10'000, still very significant.
Another objection I think I am likely to get is that I am ignoring the fact that previous consonants in a word affect the likelihood of what will be the next consonant in that word, that human languages are Markov Chain with respect to this. While that plays some role, I think it is unlikely to play a crucial role. Here is a JavaScript (NodeJS) program I used to measure that effect: "use strict"; // To znači, otprilike, "Ponašaj se po standardu i ne pokušavaj // biti kompatibilan sa starijim verzijama NodeJS-a.". Nekad zna // riješiti naizgled neobjašnjive probleme u programiranju. let suglasnici = "bcčćdđfghjklmnpqrsštvwxyzž"; // NodeJS podržava ne-ASCII (hrvatske...) // znakove u stringovima. suglasnici += suglasnici.toUpperCase(); const datotecniSustav = require("fs"); const tekst = datotecniSustav.readFileSync("main.dic", {encoding : 'utf-8', flag : 'r'}); let mapa = new Map(); for (const prvi of suglasnici) for (const drugi of suglasnici) mapa.set((prvi + drugi).toLowerCase(), 0); let prethodni, sadasnji, brojac = 0; for (const znak of tekst) { if (suglasnici.indexOf(znak) !== -1) { prethodni = sadasnji; sadasnji = znak.toLowerCase(); if (prethodni !== undefined) { brojac++; mapa.set(prethodni + sadasnji, mapa.get(prethodni + sadasnji) + 1); } } } console.log("Apsolutne frekvencije pojedinih parova:"); for (const parSuglasnika of mapa.keys()) { console.log(parSuglasnika + " " + mapa.get(parSuglasnika)); } let entropija = 0; for (const apsolutnaFrekvencija of mapa.values()) if (apsolutnaFrekvencija) entropija -= apsolutnaFrekvencija / brojac * Math.log2(apsolutnaFrekvencija / brojac); console.log("Entropija parova suglasnika: " + entropija); console.log("Vjerojatnost prosječnog para suglasnika: " + (1 / 2 ** entropija)); console.log("Inverzna vjerojatnost prosječnog para suglasnika: " + 2 ** entropija); That program printed 229, which is greater than 152. And, of course, that program does not deal with common prefixes and suffixes in Croatian, so I'd expect that the actual inverse probability of a particular pair of two consonants appearing by chance is significantly higher than 229.
Here are the sound changes I propose happened from Proto-Indo-European to Illyrian:
[kw]>k
[kj]m>y
[kj]>k
[bh]a>p
[bh]>β
[gj]>gh
[l]s>s
[n]s>s
[m]r>b
[ew]>i
[ey]>i
[e]rC>i
C[l]C>il (perhaps not between all consonants)
0[H]C>e
So, because of the epenthetic vowel 'e' appearing only in the first syllable (Ervenica), I suggest that the stress was always on the first syllable. I also have a temptation to think that the nominative singular actually ended in -i in Illyrian. The suffix -i- is seen in, for instance, Serapia, Krndija, Colapis, and possibly also in Andautonia. I believe that the primary ablaut changed from e/o in PIE to a/u in Illyrian, for instance, in the toponyms such as Mursa, Marsonia and Mariniana. The geminates (long consonants, they don't exist in English, but they existed in Latin and were written as double consonants) in the toponyms such as Issa and Pannonia are probably explicable by some consonants being doubled after a short vowel, like in Middle English more or less. It's not quite clear what sound changes the Proto-Indo-European syllabic 'l' (and therefore probably other syllabic consonants) had undergone. It appears to have been retained after a 'w' (Vuka, Ulciria), but not after a 'd' (Dilj), where it appears to have been turned into 'il'. The 'e' turning to 'i' if followed by r+consonant was happening in the very late stages of Illyrian, the name Certissia is attested in the Antonine Itinerary as Cirtisia, and the name Sirmium is attested by Polemius Sylvius as Sermium. The g sound, as far as I know, hasn't been attested in any Illyrian name, and it's possible all the Proto-Indo-European velars merged into one sound. However, this is, among Indo-European languages, unattested, and is therefore unlikely, and the lack of g in attested words and names is probably a coincidence. I think the most common consonants in Illyrian were s and l, for the element *sal~sol appears in at least three meanings: something related to rivers (the ancient name for Jadro River was Sallia, and there are three hydronyms Zala in Slovenia: one is the river that flows from the Fekete To lake on the border with Hungary, one is the river with the waterfall called Kotel, and one is a stream near Železniki), in the word probably meaning exactly "island" (attested in ancient name for Šolta, Solenta, in all likelihood related to the Latvian word sala meaning island), and in the word meaning "salty", attested in the ancient name for the Messapian salt lake Salpi, Salapia, and perhaps in the toponym Sali near the salt lake Mir. I think the word *sal in the meaning river is a borrowing from Pelasgian, because one of the ancient names for the river Peneus in Greece was Σαλαμβριας. It's likely that, under some conditions, Indo-European *s turned to the ʃ (sh in ship) sound in Illyrian, because Pseudo-Scylax wrote the name Solenta as Holynta, and it's a lot more likely somebody would hear the ʃ sound as h than the s sound as h. However, since neither Latin alphabet nor the Greek alphabet had a letter for the ʃ sound, it's hard to tell under what conditions Illyrian s turned to ʃ.
So, here is what I think Pater Noster might have sounded like in Illyrian:
Patir nos, kis divi esi!
Kekluit ennomin teβi!
Essis errehs!
Βuind ki tu vessi
neβesu errike!
Ki nos ne essenti dogi toimi, dodi!
Pagdike likona nos,
kom vike pagmos likettirmos nos.
Sentme ne dirtomos,
solaske inzme tirnomos.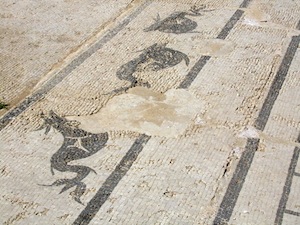 The Roman Thermae
in Issa (Vis)
were getting the water
from a mineral spring
that doesn't exist
any more.
However, it's possible
that Issa was
named after it,
from the Indo-European
root *yos (spring).
That would be it! If you want to discuss my theory, go to the "Croatian Toponyms" forum thread I've linked to on the left. I'd like to have some sane opposition there, because I think my interpretation may be right. Ideas are correct or incorrect independent of their creators. The fact that I am not a linguist specializing in those things doesn't mean my ideas are wrong. I've used the methods that are well-accepted in linguistics (apart from applying statistics to the toponyms, which is for some reason very rarely done), I've just come to the conclusions that are different from the mainstream ones.
UPDATE on 09/07/2018: You can download my Illyrian-Croatian dictionary
here
(it's a .DOCX file!).